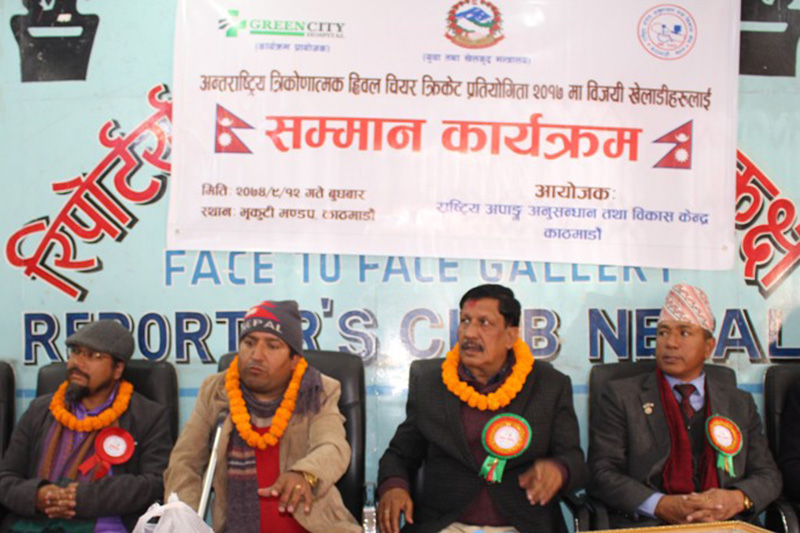 Wheelchair Cricket players feted, Minister KC stresses on continuous support
KATHMANDU: National Disabled Research and Development Centre-Nepal (NDRDC-N) felicitated the winners of the International Wheelchair Cricket Tournament in the capital on Wednesday.
In all, 45 players were feted at a programme organised at Reporters Club today.
Speaking at the programme, Minister for Youth and Sports Rajendra Kumar KC thanked the players for making a name in the world through the tournament.
He further said that by winning the tournament, they have proved the capabilities of Nepali players. Minister KC in the programme stressed on the need for government's continued efforts to provide necessary support for further development of Wheelchair Cricket.
In the same programme, Lok Bahadur Tandon, Chairperson of Green City Hospital, praised the players for their achievements, adding their willingness to provide free health check-up for the winners.
Likewise, Nilkantha Paudel, Chairperson at NDRDC-N also stressed on the need for inclusion of the people with disabilities in the policy making process as they too are capable of contributing to the development of the nation.
Nepal won the tri-series organised by Wheelchair Cricket Association Nepal at TU Stadium. Teams from India and Bangladesh had participated in the series.
The 14-member Nepali team was formed including players from three teams — Tribhuvan Army Club, Jorpati Club and Jawalakhel Club — for the first-ever international wheelchair cricket tournament.